This week I'm spending time with my oldest schoolfriend (35 years ... where does the time go?!), her 11 year old son and Mum who are visiting us for half-term ... so very little sewing to share!
It has been a time of giving and receiving so, with your indulgence, I will share some of that today. First up, the talented
Fran
, who's been my blogging friend for nearly a year now sent me these delightful gifts as a thank you for making her daughter a Pants Bag.
I love her zippy pouches ... she's such a tidy sewer:
I've finished another Pants Bag which is going to Kentucky as soon as I can get to the shops to fill it with gifts for the little girl I'm sending it to:
And Lorna wrote a lovely
post
about the Pants Bag I made her just because I could:
My WIPs - soldier's quilt and baby quilt - have finished the tops and just need the backs making which I'm hoping to start at the weekend:
In the meantime, I've been vicariously quilting through the lead character in this wonderful book dear SIL bought me for Christmas:
I can't put it down! It's fascinating to read of her life in 1850s Ohio, her comparisons between English and American life and quilting:
Linking up with
Lee
:
and
Heather and Megan
: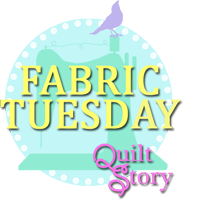 and
Lorna
: